Meals for Fertility
Regular price
Sale price
$190.00
Unit price
per
Sale
Sold out
Cut-off order time: Every Thursday, 12pm.
Place your orders by 12pm, 5 Oct to get your meals from 9-13 Oct.
Get first dibs on the upcoming weekly menus by following our IGS!
Share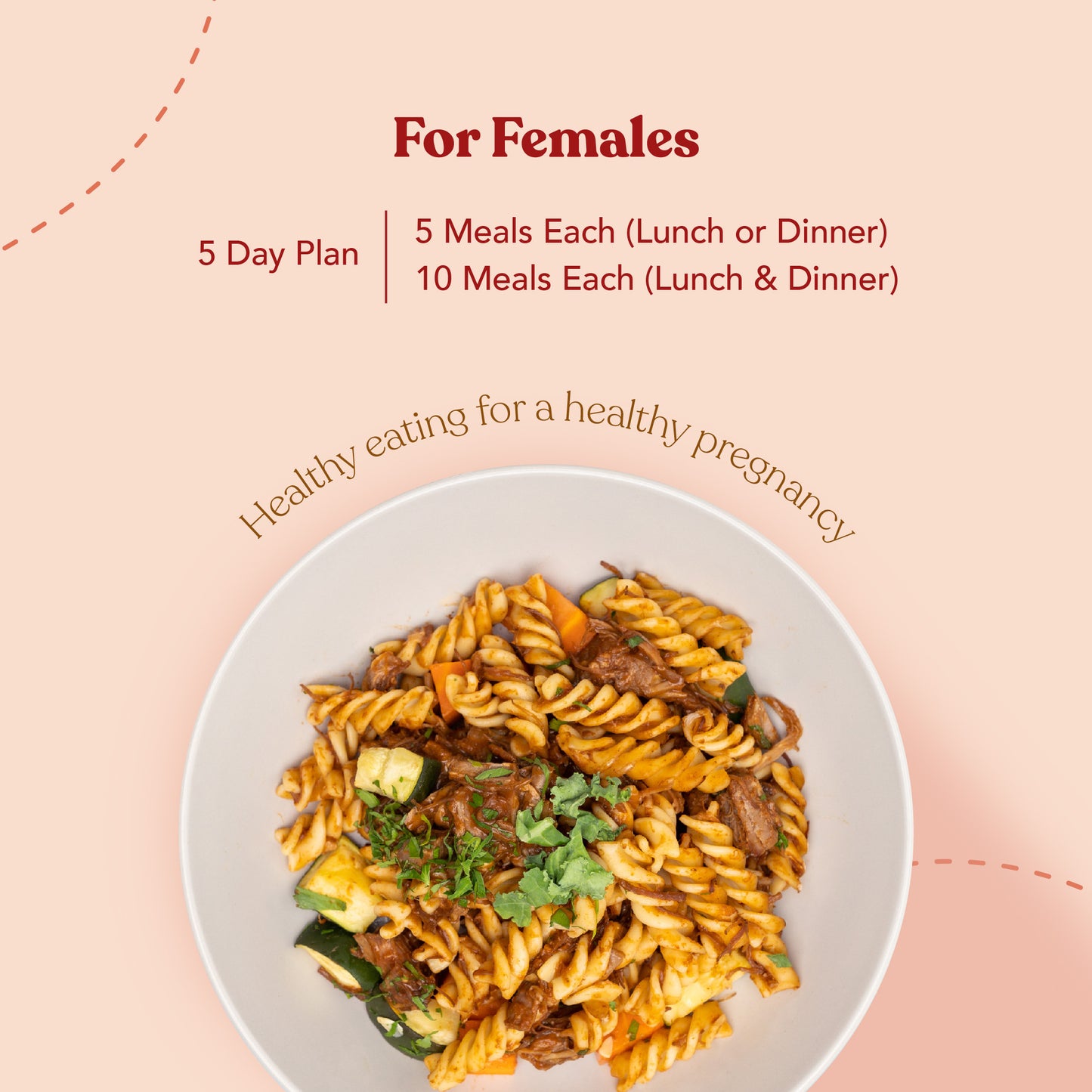 Fertility diet meal plan for the modern TTC couple
Meals for Fertility is a pre-pregnancy meal delivery service in Singapore to help you eat your way to better fertility.
Backed by science, our fertility meal plan contains all the nutrients you need on your conception journey.*

It's designed by Australia's leading fertility dietitian and a head chef certified in Precision Nutrition (best-in-class nutrition coaching globally).

Because the right diet is the key to unlocking better fertility health.

Our diet plan for folks trying to conceive follows the Mediterranean diet closely. It includes whole grains, lean proteins, and healthy fats to support you on your babymaking journey.

With convenient doorstep delivery, enjoy our nutritionally tasty fertility foods in the comfort of your home. You never have to bother with fertility diet recipes, meal preps, and cleanups again.
*A fertility diet is scientifically proven to positively impact your fertility health. Learn more below.
Need more expert advice on our fertility aids? Whatsapp our friendly Fertility Concierge here
Nutrient-dense,
whole foods
Nutritional Information
100% whole foods like brown calrose rice, chickpeas, and salmon — no chemicals, preservatives, or artificial ingredients!
Made with premium extra virgin olive oil for a nutritional boost.
Fresh ingredients because we don't skimp on taste.
How it Works
Choose your meal plan
Order for one or for both. From lunch to dinner, we've got you covered.


Delivered to your doorstep
Twice-a-week deliveries of freshly cooked food with weekly cut-off ordering time.
(Thur, 12pm)




Tuck into your meals
Bon appétit! All you have to do is reheat your food before eating.

Dr. Ruben Alvero, MD (Obstetrics & Gynecology)
"All individuals who are trying to conceive could benefit from Meals for Fertility.
It can take a while, which is why you should start a fertility diet as soon as possible.
Weight loss is usually the most important. So, you'll have to start measured (not rapid) weight loss as soon as you can. Weight loss will certainly impact maternal health and can improve menstrual cyclicity.
Patients who want to get pregnant should also take prenatal vitamins with folic acid and CoQ10 to complement a balanced diet."
Dietitian Catherine Chong, APD Certified Fertility & Prenatal Dietitian
"Couples planning to conceive should start optimising their diet 3-6 months before conception.
A balanced diet rich in antioxidants and essential nutrients can enhance egg quality in females and sperm health in males, thus improving the chances of conception.
The twoplus Fertility meals are packed with whole grains, vegetables, and healthy fats, providing an ideal nutritional foundation for pregnancy."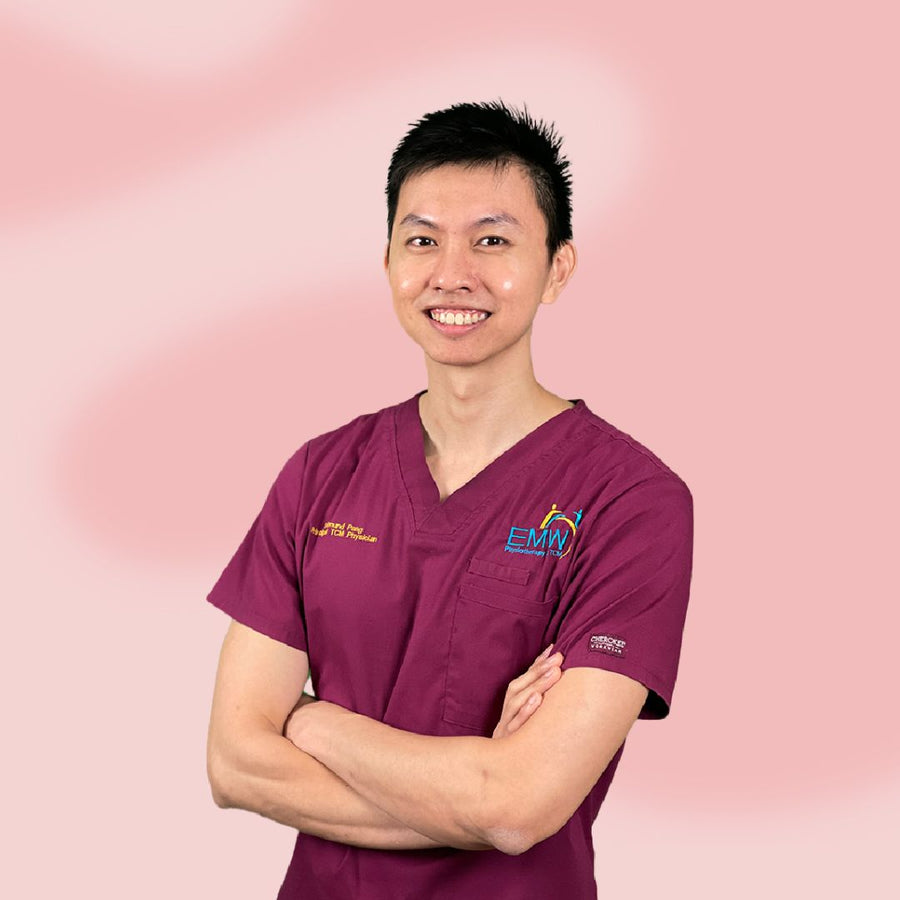 Principal TCM Physician Edmund Pang, EMW Clinic, Special Interest in Subfertility & Women's Health
"Meals for Fertility offers nutrient-rich meal plans to support reproductive health, whether you're planning to conceive, experiencing delays, or undergoing fertility treatments like IVF.
These plans address nutritional deficiencies and optimize overall fertility.
By incorporating anti-inflammatory and low-GI foods, these meal plans create a favorable environment for conception, ideal for fertility disorders such as PCOS and insulin resistance."
The Science: Eat your way to better fertility
Science shows a healthy diet positively impacts your fertility. 
Better than expected!
It is better than expectation. I didn't know fertility focused meal can be tasty and healthy at the same time.
Foodies approved!
Would like to do more to help in our attempt to conceive. Eating right will help a lot as we are both food lovers! Didn't expect fertility meals to be so versatile.
Flavourful and delicious!
surprisingly delicious. i do not have much expectation when it comes to healthy meal (usually not appetizing and bland).
Quality exceeded my expectations!
Exceeded it. Flavour wise the food is well seasoned; not overly done. Food was also cooked appropriately - the chicken and fish were tender and not over/under cooked. Creativity wise, some repeats of veggies like carrots and cauliflower, but personally these are fine with me. Overall, the dishes were well put together, of a good variety and well executed.
Frequently Asked Questions.
Our food is freshly cooked and prepared at a local SFA-certified kitchen. Every meal is designed and reviewed by Australia's leading fertility dietitian and a head chef certified in Precision Nutrition (best-in-class nutrition coaching globally).

Rest assured that Meals for Fertility is made with 100% whole foods and free from chemicals, preservatives, and artificial ingredients.
Meals for Fertility is a 5-day meal plan delivery service. Depending on whether you've chosen meals for Couple or Female Only, lunch and/or dinner, you'll receive between 5 and 20 portions per week.

Example 

If you've subscribed to meals for Female Only (lunch only), 5 meal portions will be delivered to you. 
If you've subscribed to meals for Couple (lunch and dinner), 20 meal portions will be delivered to you.
To cater to local taste buds, Meals for Fertility offers a huge range of Asian and locally inspired dishes. You can also expect international flavors like Japanese, Western, and Vietnamese meals. We hope your taste buds will love our meals! 
Our Couple meal contains both female and male portions for TTC couples while our Female Only meal contains female portions only. 

The male portions in our Couple meal contain more macronutrients to cater to the generally higher energy intakes of sperm-producing individuals. That's why our Couple meal is priced higher to ensure every portion meets your dietary requirements when TTC.
If you have special dietary requirements, please indicate them on the check-out page before payment. While we do not customize our meals, we'll do our best to accommodate these changes by swapping meals for another from that week's menu.
Our food is prepared and cooked in a Halal-friendly kitchen that sources from Halal-certified suppliers. We are working hard to get Halal-certified and will update this page as soon as things change!
Meals for Fertility provides all the nutrients you need on your conception journey for lunch and dinner. For a well-rounded TTC diet, prioritize breakfast in the morning and eat adequate amounts of fruits throughout the day. If you have any questions regarding your nutritional needs, please speak with a licensed healthcare provider. 
Absolutely! Meals for Fertility is designed to be a fertility diet for people trying to conceive. If you're currently taking dietary supplements like folic acid and vitamin C, feel free to continue doing so as they would not interfere with our meals. For peace of mind, always consult a licensed healthcare professional on any dietary concerns that you may have. 
Deliveries are done in two batches per week:  
Meals for Monday to Tuesday are delivered on Sunday between 9.30 a.m. and 12 p.m.
Meals for Wednesday to Friday are delivered on Tuesday between 5.30 p.m. and 9 p.m. 
You'll be contacted via WhatsApp once your order is sent for delivery to ensure the food reaches you safely.
Our food is sustainably packaged in spill-proof boxes made from biodegradable wood pulp. 
Our meals are delivered blast-chilled. This means we lower the temperature of the cooked food fast before keeping it cool at normal chiller temperatures. Blast chilling helps slow down the rate of bacteria growth, so the food stays fresh-looking and tasty for longer. 


Upon receiving your meals, it's best to keep them refrigerated at or below 4°C for 3 days. For the best culinary experience, follow the storage and reheating instructions on each meal.
We highly encourage you to be at home during the specific time slots for deliveries.


In the event that this is not possible, do message in advance via WhatsApp with alternate instructions for delivery, e.g., hang food on door handle.
The cut-off time for ordering Meals for Fertility is every Thursday, 12 p.m. (SGT) for the following week's meal plan. This helps ensure the kitchen staff has sufficient time to prepare your meals so you experience Meals for Fertility at its best. 
If you have unfortunately missed the cut-off timing for the following week's meal plan, please make an order for the week after that. 
If you'd like to make a one-time purchase for Meals for Fertility, you can subscribe to our weekly meal plan and cancel it by next Wednesday, 11.59 p.m. (SGT) before your next meal plan starts.
All cancellations for purchase must be made by Wednesday of that week's subscription, 11.59 p.m. (SGT). This applies to 4-week meal plans too. 
Pausing of weekly subscriptions must be made by Wednesday, 11.59 p.m. (SGT) before next week's meal plan starts.
If you've cancelled your 4-week meal plan after the cut-off time, e.g., from Thursday, 12.00 a.m. (SGT) onwards, no refunds will be made and orders will still be fulfilled for the next 4 weeks.


For assistance with refunds, please email service@twoplusfertility.com if you have already made payment.
If you've canceled your subscription before the cut-off time of Wednesday, 11.59 p.m. (SGT), you're entitled to a refund. 


Any cancellations after the cut-off time are not entitled to refunds. If you need assistance with this matter, please email service@twoplusfertility.com.
Choosing a selection results in a full page refresh.