Conceive Plus Fertility Lubricant
Regular price
Sale price
$42.50
Unit price
per
Sale
Sold out
For couples trying to conceive, the Conceive Plus Fertility Lubricant is just what you need. This FDA-cleared, fertility-friendly lubricant is specially formulated to enhance comfort during sex while creating an ideal environment within the vagina for sperm to survive and move efficiently.
✓ Supports Sperm Survival and Migration
✓ pH Balanced
✓ Free Shipping
Each tube of Conceive Plus is 75ml/2.5 fl. oz
Ingredients:
Deionised water, hypromellose, sodium chloride, glycerol, sodium phosphate, disodium phosphate, methylparaben, potassium chloride, magnesium chloride, calcium chloride
Share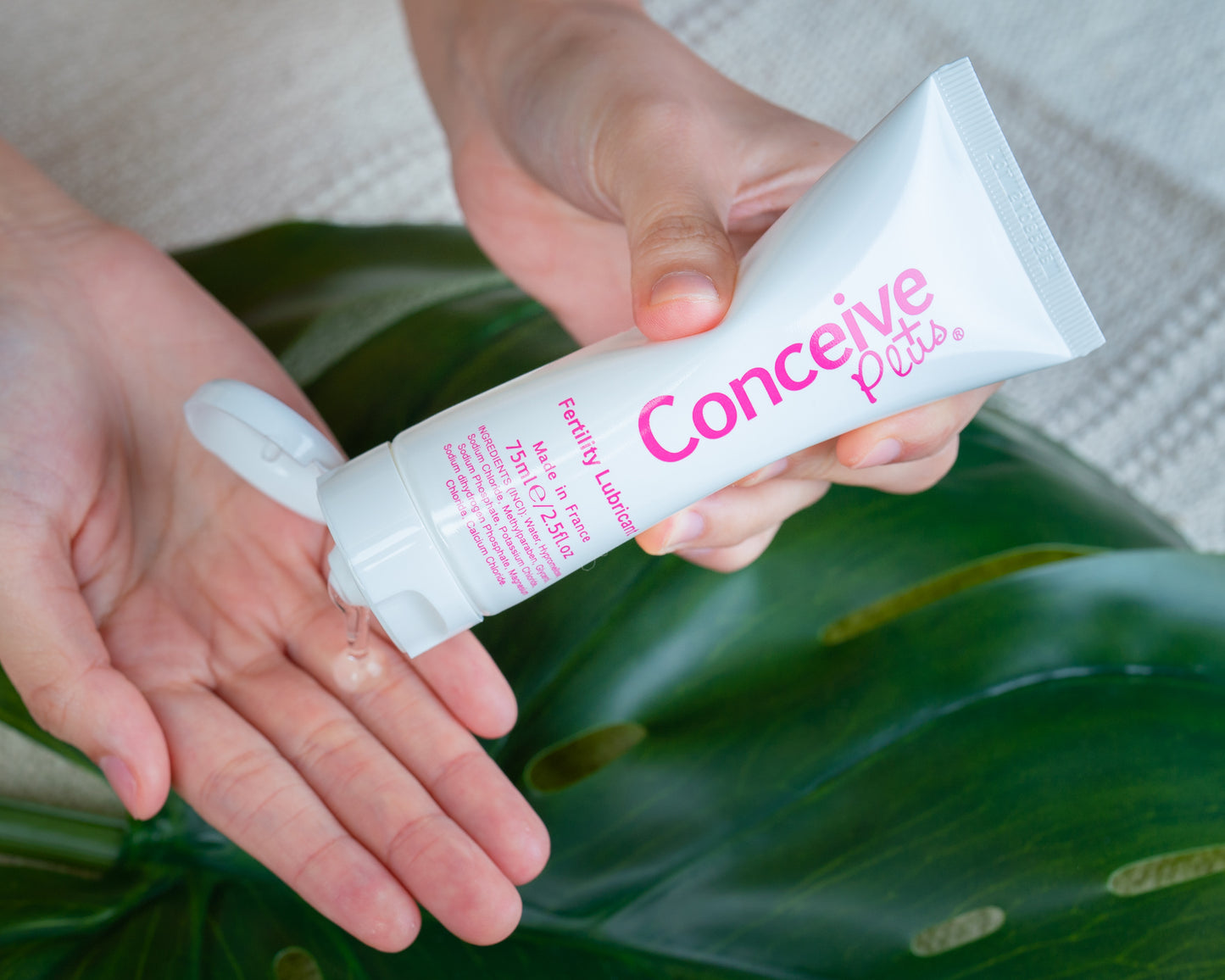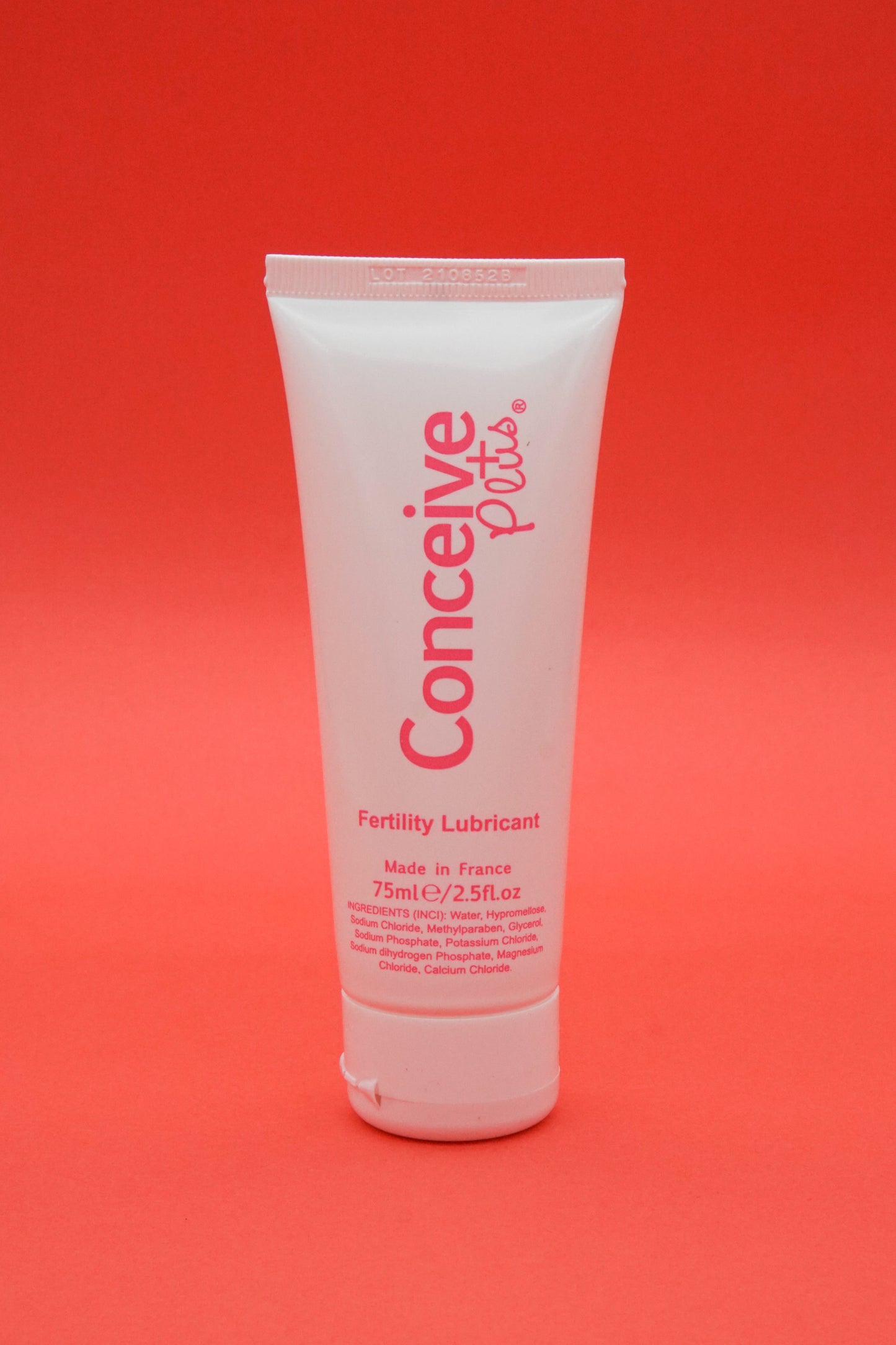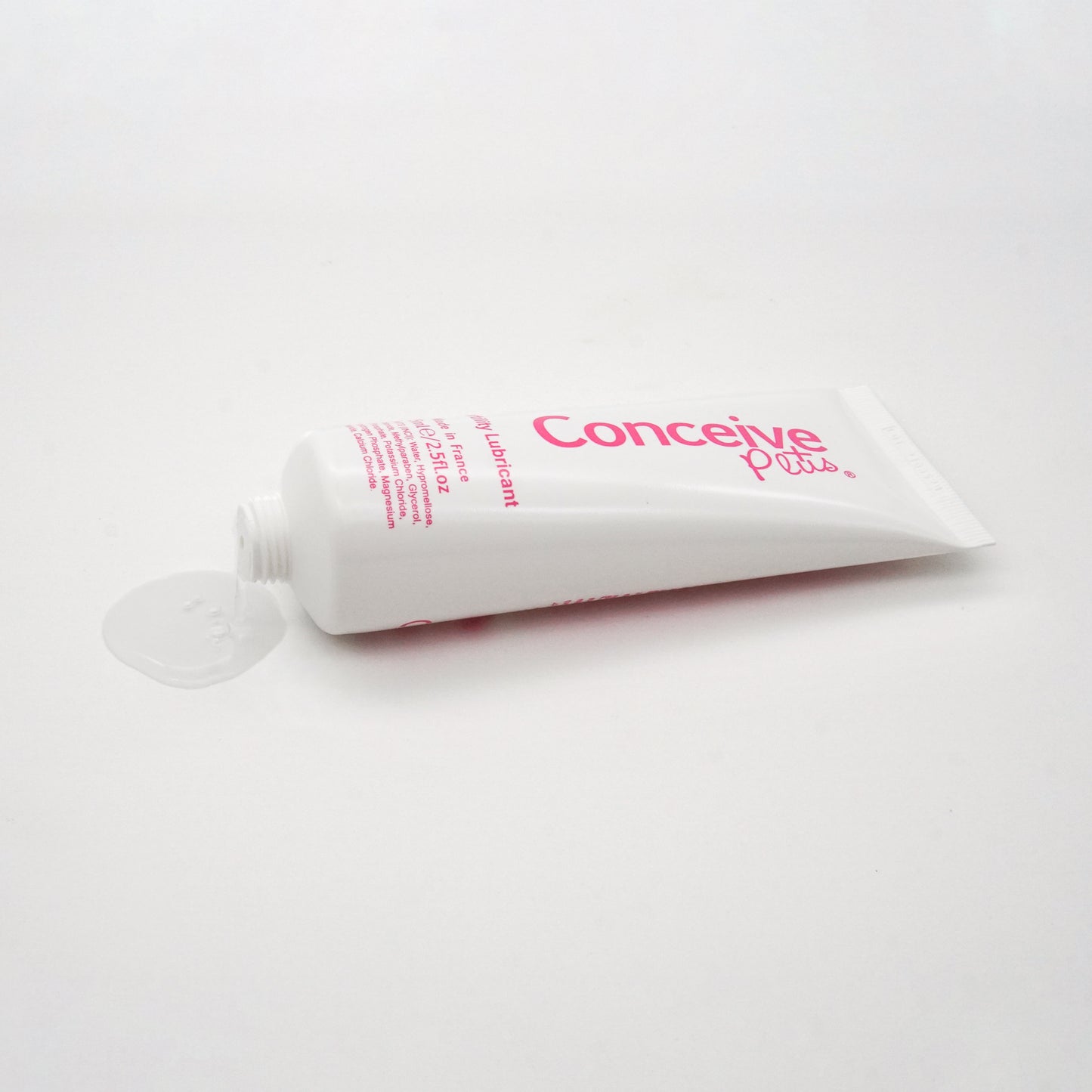 What Sets Conceive Plus Apart From Other Lubes
Conceive Plus might look and feel the same as other personal lubricants, but that's where the similarities end. Here's what makes this lube different from the ones that you know.
Specially Formulated

Unlike any other personal lubricant available now, Conceive Plus has magnesium and calcium ions incorporated into its formula, which are key ions that may aid sperm migration to the egg.

Fertility Friendly

Cleared by the U.S. Food and Drug Administration (FDA) as a fertility-friendly lubricant, Conceive Plus is non-toxic and intermixes with sperm, which helps support sperm quality.

(Almost) Au Naturel

Conceive Plus mimics the body's natural fluids (aka fertile cervical mucus), which helps create an optimal environment for sperm. What's more, it can moisturize the vaginal tissues.

Why Do I Need Conceive Plus?
✓  It can be stressful trying to make the most out of ovulation. Conceive Plus increases comfort during sex, making the process a frictionless one for both parties. Literally and figuratively.
✓ The survival of sperm in the vaginal tract is crucial for a successful conception. Conceive Plus' neutral pH and special formula ensure that no sperm is left behind.
✓  If you and your partner are already using lube before trying to conceive, this fertility lubricant looks and feels exactly the same. And all you need is a teaspoon-sized amount to get going.
Feels good!
Tried and lubricant and there's no adverse reactions to my sensitive skin! Seems that it's Made in France!
Highly Recommended
Finally after we have been contemplating to get this product as it is quite pricey, my husband agree to purchase this and it has been the greatest addition in our journey! Been using this for almost a month now, and I feel that it has contributed to improving my healthy vagina as there are no more yellow discharge nearing my menses. The product really suits me and my husband's needs! Waiting patiently for pregnancy to come!
I dig it!
Easy to use and trusted quality
Fantastic!
Love it! Fragrance free and easy to glide in.. Had a sensitive skin but using this doesnt flare my skin
Frequently Asked Questions.
For individuals trying to conceive, it's best to choose a fertility-friendly lubricant that's been cleared by the FDA.

Fertility lubricants are safe for use when you're trying to conceive with your partner. They are compatible with sperm, oocytes (eggs), and embryos.
Conceive Plus is specially formulated to increase comfort during sexual intercourse while providing an ideal environment for sperm to survive in the vagina and reach the egg. 

Its neutral pH level, incorporation of magnesium and calcium ions, and ability to intermix with sperm make it an ideal lubricant for couples who are trying to conceive.
Conceive Plus is best used for sex during a lady's fertile period. Sex during this period of time has the potential to be stressful and having a suitable fertility lubricant on hand helps to increase comfort for both parties and even enhance arousal.
For the ideal level of lubrication, both you and your partner simply need to apply a teaspoon-sized amount to your genitial areas before sex. If you begin to feel discomfort during sex, re-apply a teaspoon-sized amount of Conceive Plus again.
It is! Conceive Plus is non-toxic and cleared by the FDA. What's more, this sperm friendly lubricant was created to mimic the cervical mucus as much as possible. However, check the ingredients list and speak with your primary care physician or gynaecologist to determine if you are allergic to any of the items listed.
These additions to Conceive Plus keep sperm healthy to improve the chances of egg fertilisation. The calcium ions help to improve the absorption of magnesium and it's used in other important physiological processes as well.
Things not working out?
twoplus Fertility's home conception sets are backed-by-science and quality is assured. However, we understand that things just don't work out sometimes. Refunds are given on a case-by-case basis. Drop us a line and we'll work it out with you!
Before you buy conception aid products again, take our quick & simple quiz to see which solution is the perfect fit for you.
Take The Quiz