Selling fast
Applicator
Regular price
Sale price
$98.00
Unit price
per
Sale
Sold out
Most people also bought
5-Month Fertility Plan
5-Month Fertility Plan is a comprehensive package of fertility aids, supplements, and tests for your TTC journey. Find out more here!
twoplus Fertility's Applicator is designed specifically for at-home intravaginal insemination (IVI). Self-inseminate in full privacy and comfort, and say goodbye to the stress and uncertainty of having sex on schedule. Deposit sperms in the right place and bypass the lower vaginal tract to aid their chances of survival.

When the Applicator is used in tandem with the Soft Tip accessory, it transforms into the Applicator Extra. You enjoy much greater comfort during self-insemination and reduced immediate leakage out of the vaginal tract.
✓ Rounded Edges, Fits Comfortably
✓ At-Home Insemination
✓ Hygienic
✓ Safe Over-The-Counter Use
✓ Discreet Packaging
✓ Free Shipping
Each twoplus Fertility Applicator kit comes with:
One vaginal applicator
One Soft Tip accessory (exclusive to the Applicator Extra)
One semen collection cup
One set of instructions in English
This device is single-use only.  

Need more expert advice on our fertility aids? Whatsapp our friendly Fertility Concierge here
Share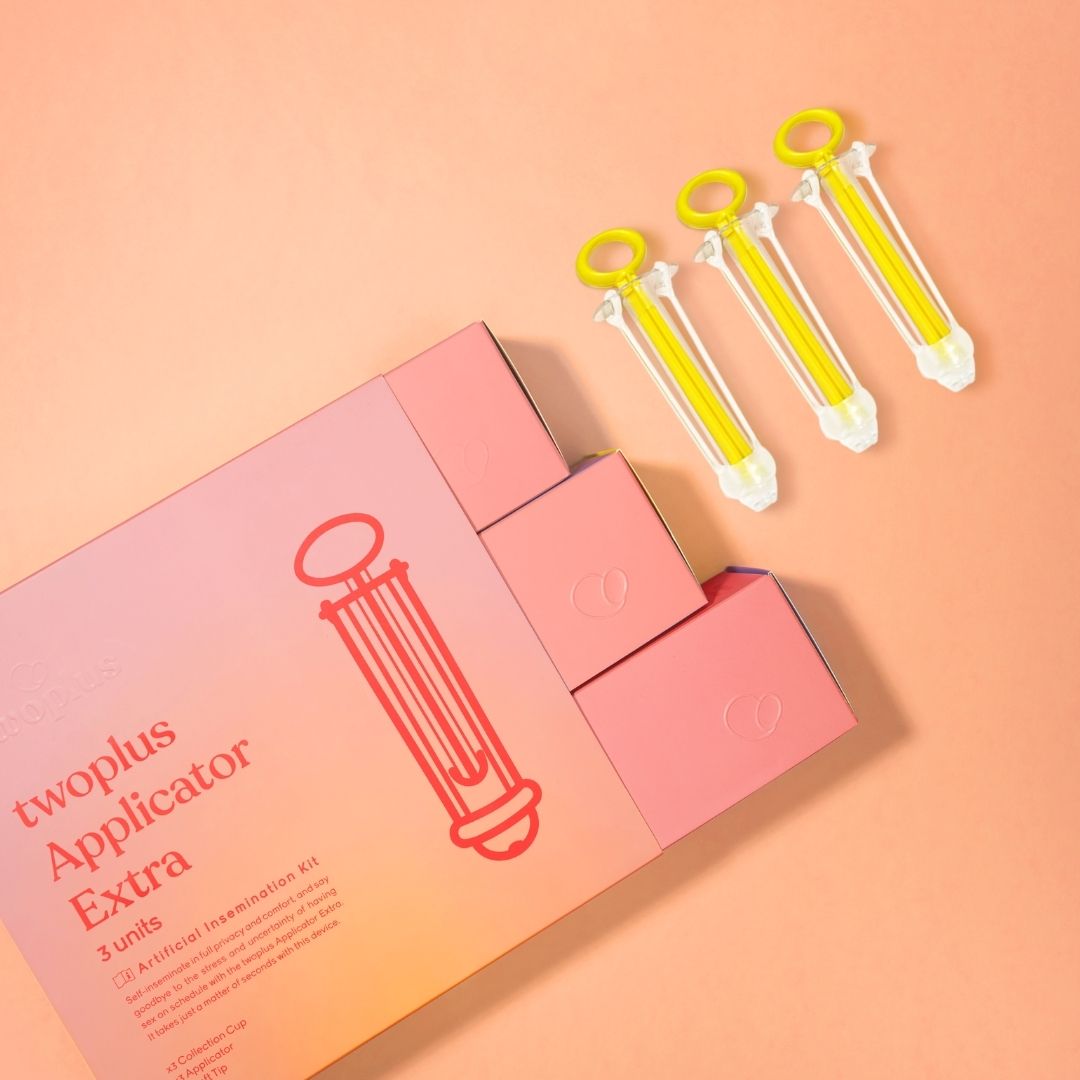 Why Not Any Other Syringe?
We designed the twoplus Fertility Applicator to bring IVI right to the comfort and privacy of your home.
The twoplus Fertility Applicator is a one-time use device designed for couples trying to conceive without penetrative sex. By directly depositing sperm to the right spot, you optimise the chances of fertilisation. What's more, when you purchase the Applicator Extra, you can bid farewell to raising your legs in the air after self-insemination. The Applicator Extra's nifty Soft Tip reduces immediate leakage out of the vaginal tract, making sure every drop counts.
Not only is the Applicator safe to use, you may even see greater efficacy as the direct semen deposit allows sperm to bypass the lower vaginal tract's acidic environment; an area where most sperms won't survive.
Designed For At-Home Insemination

The Applicator and Applicator Extra helps transfer semen efficiently and comfortably, with rounded edges and a narrower body to mimic mother nature.

Tested To Be Sperm-Friendly

This artificial insemination kit passed tests for human sperm survival with flying colours.

Maximised Semen Transfer

Did you know that you experience a significant loss in volume when you self-inseminate using conventional syringes? This is because their narrow tip traps semen. The twoplus Fertility Applicator's rounded tip ensures that over 90% of semen leaves the syringe.

Optimised For One-Hand Use

Raise your (other) hand if you find it tough to use a syringe with one hand. The twoplus Fertility Applicator and its Extra version are optimised for single-hand usage, with the majority of our early users finding them easier to handle than a conventional syringe.
Success Stories From People Who Used The Applicator Extra 
"Since the Applicator is much less invasive, simpler, more affordable, and could be self-administered at home, we decided to give it a go.
It was really easy to use; there was no discomfort at all!
We used it 4 times during my ovulation window, and successfully got pregnant again."
– C. Poh, 32
Read Poh's Story
What Makes The twoplus Fertility Applicator Syringe Unique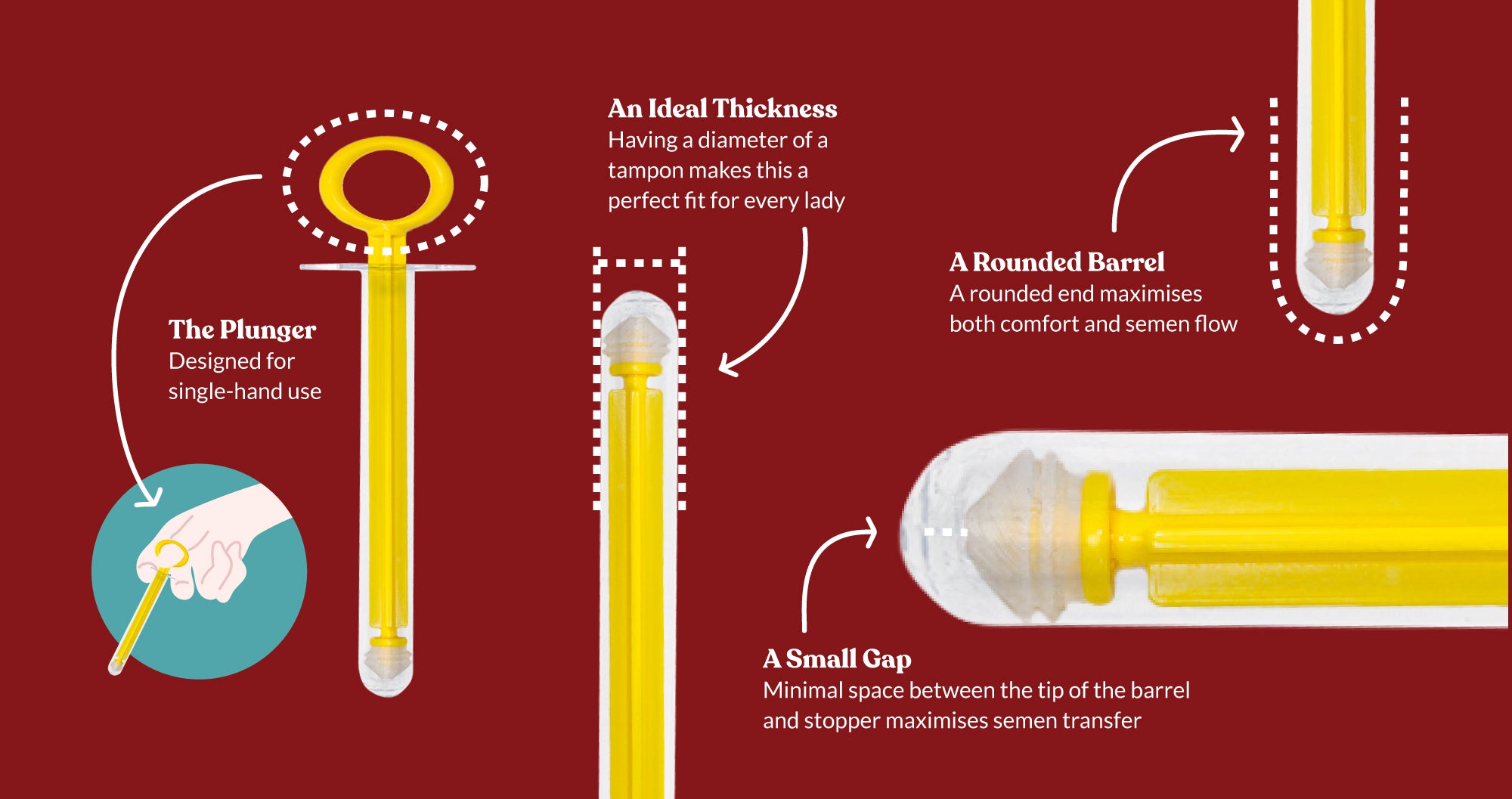 What's the Soft Tip?

How Different Are The Applicator And Applicator Extra?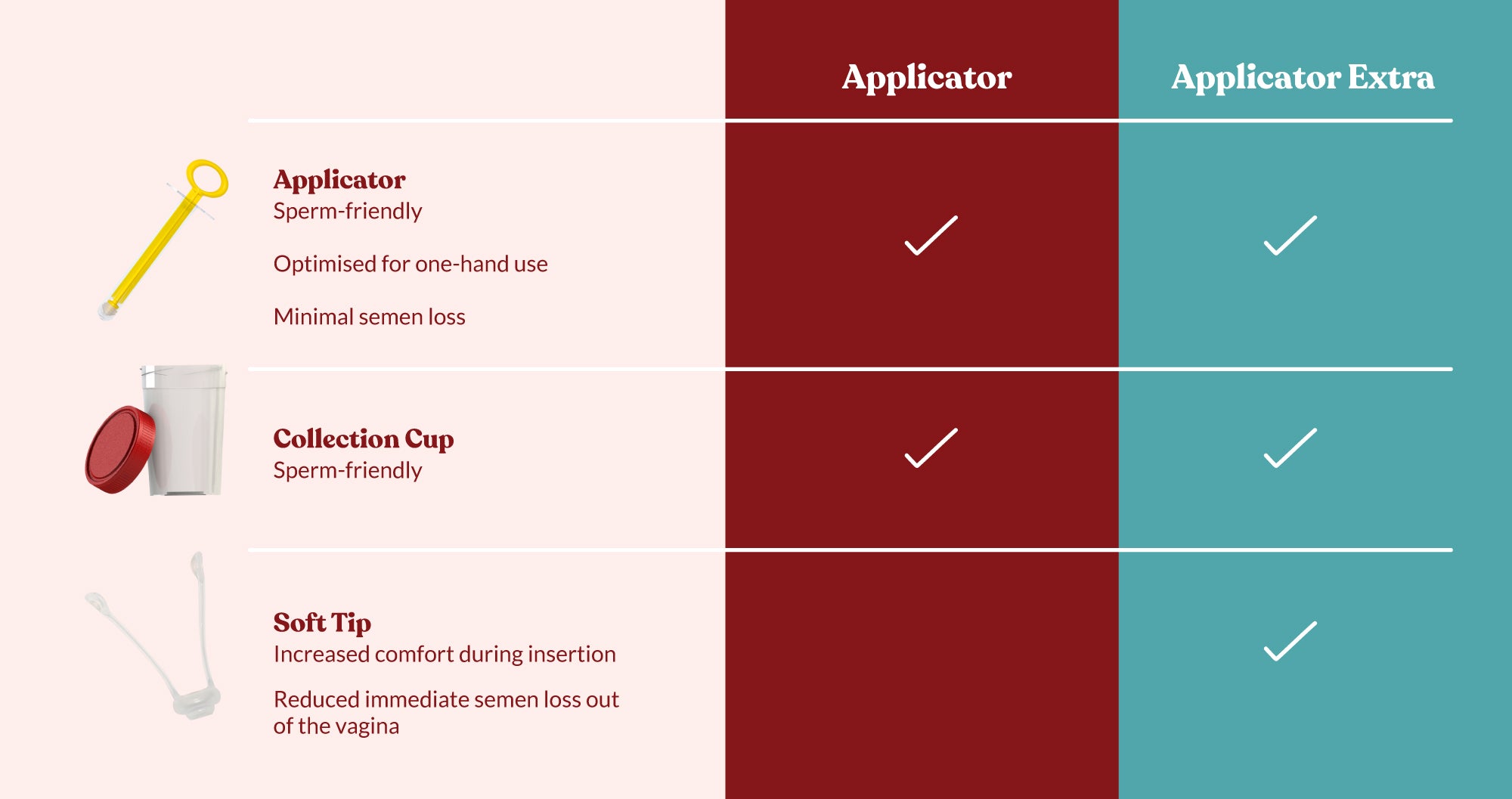 How Do You Use The twoplus Fertility Applicator?
Here's how you can easily inject a new lease of life with the Applicator. A few seconds is all you need.
Set The Stage

Deposit semen into the collection cup.

Draw Semen Into Applicator

Tilt the collection cup at an angle before placing the Applicator in. Then, pull the plunger to withdraw the semen.

Attach The Soft Tip (Extra-only)

For added comfort and reduced immediate loss out of the vaginal tract, attach the Soft Tip to transform the Applicator into the Applicator Extra.

Self-Inseminate Away

Get into a sit-up position or lie on your back. Then, insert the Applicator into your vagina and press the plunger.

Keep Soft Tip Inside (Extra-only)

Once the deed is done, remove the Applicator but leave the Soft Tip inside you (if you're using the Extra). Don't worry, you can remove it an hour later!
Godsend
This applicator was a godsend for us, after 4 months of unsuccessful conception and disappointments, we decided to try this without any expectations. We timed the usage to the correct day of ovulation cycle and little did we know that this will unlock the world of happiness for us. We had successful pregnancy on the same month and now our baby boy is 3 months old. I recommend this product to those who are trying to get pregnant and I hope this helps you as well. Thank you twoplus fertility.
Very easy to use thank you
Great
Great works really well, really easy to use- it takes the stress away. Dont know if its worked yet, but fingers crossed.
Size and Measurements
The syringe size is too small because not sure that fully penetrates the vagina and no measurement indicates semen volume.
Works!
My husband and I decided to try this home insemination kit because both of us are feeling the pressure of having to do it on a specific schedule during my ovulation date. It was getting to my both of us and we just felt like it became a chore to do than enjoying it. We finished one box and on the 2nd box we started with the first kit and I got pregnant! Currently 14 weeks 😁😁
Frequently Asked Questions.
The Applicator syringe, Applicator Extra's Soft Tip accessory, and semen collection cup are all single-use items. Reusing any of items may result in an infection and re-sanitising or sterilising them compromises their structural integrity. If you require more Applicator or ApplicatorExtras, you can simply add them to your next order.

Dispose of the syringe and collection cup once you're done self-inseminating. As for the ApplicatorExtra's Soft Tip accessory, remove it from your body and discard it approximately 1 hour after self-insemination.
If you're experiencing painful sex or simply prefer the convenience of self-insemination, this vaginal applicator fits your needs to a T. It was designed to meet our exacting standards and has undergone rigorous research and testing.

The Applicator also allows you to deposit sperm at the right place, which may just help you get the outcome you want.
Ideally, the twoplus Fertility Applicator should be used when you are most fertile. In short, it would be the final days leading up to ovulation during your menstrual cycle.

Need a quick and accurate ovulation test to determine this? Check out our Ovulation Test Kit (by Point of Care).
If you're seeing these as you're drawing semen from the collection cup, don't worry. This won't affect the self-insemination process at all! Additionally, do not press the plunger to remove any air bubbles as this will cause semen to leak out. Time is of the essence, so you'll need to work swiftly and move on to depositing sperm in the vagina.
Yes, this at-home intravaginal insemination kit has a shelf life of two years, including the Applicator Extra's Soft Tip accessory. If your Applicator has expired, please dispose of it and purchase a new one. To prevent this from happening, order an Applicator only when you and your partner plan to use it in the near future.
The twoplus Fertility Applicator was designed for couples to perform at-home intravaginal insemination comfortably and in full privacy. The Applicator's syringe and Applicator Extra's Soft Tip accessory have been carefully designed to maximise comfort. You should not feel any aches or pains while using this IVI kit at home. To prevent this from occurring, please read the Applicator's instructions and watch our step-by-step demonstration.

In the unlikely event that you experience pain, discomfort, or irritation during the insemination process, we highly recommend you to stop immediately and consult your primary care physician or gynaecologist.
It's normal for semen to leak out of the vagina, no matter the insemination method. However, using the Applicator Extra and its Soft Tip accessory helps to reduce immediate loss after self-insemination. You no longer need to raise your hips during insemination and you can walk around comfortably with the Soft Tip inside you after that. Self-insemination will never be a messy affair again.
Both the Applicator and Applicator Extra let you easily self-inseminate in the privacy and comfort of your own home. The Applicator Extra sports the unique Soft Tip accessory, which makes insertion more comfortable and reduces the immediate loss of semen from the vaginal tract.
Things not working out?
twoplus Fertility's home conception sets are backed-by-science and quality is assured. However, we understand that things just don't work out sometimes. Refunds are given on a case-by-case basis. Drop us a line and we'll work it out with you!
Before you buy conception aid products again, take our quick & simple quiz to see which solution is the perfect fit for you.
Take The Quiz